The team for Sundays second Women' County Championship match has been named.  After a fantastic opening victory against Cheshire on the previous weekend 39-17  Leicestershire followed this up with a 39-15 victory over Warwickshire. This has now set up a potential pool decider with Eastern Counties.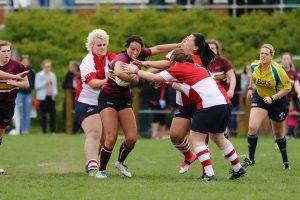 This weekend sees only two changes to the starting line up  with Daphne Fromes switching from the bench with fellow Leicester university back row Jade Shakespeare in a reverse of last weeks. Frankie Rushton makes her much awaited championship debut on the wing, after sitting out the earlier two rounds. Frankie comes in for Abi Gordon who is away playing for the Midlands under 18's with fellow squad member Amy Relph.
The match is at Lutterworth RFC Sunday 7th May and kicks off at 14:30 it would be great to have some support.
1 Nikki Wieczerzynski
2 Jasmin Heard
3 Ofure Ugiagbe
4 Carla Jones
5 Saskia Penrose
6 Laura Turner
7 Daphne Fromes
8 Danielle Allen Solly (Captain)
9 Sheree Wright
10 Maria Crowfoot
11 Frankie Rushton
12 Alex Macdonald
13 Brie Matthes
14 Emma Bliss
15 Emma Dootson
Replacements:
16 Ellie Turner
17 Izzy Butcher
18 Cariolina Pasquali
19 Emily Hughes
20 Jade Shakespere
21 Jenny Renton
22 Natalie McDonald
Travelling Reserves:
Dannie McKenzie
Alysia Hunt
Izzy Drexler
Jasmine Eames
Martha Riggs
Natalie Macdonald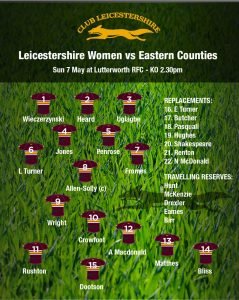 Next up for Leicestershire will be
Tuesday 9th May Leicestershire v Nottingham university @ Hinckley RFC 7:30pm
Sunday 21st May Leicestershire v Oxfordshire @Banbury 2:15pm