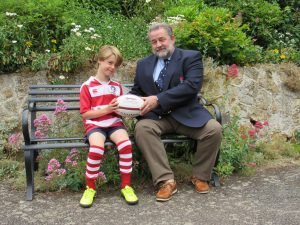 When the Leicestershire Rugby Union received a message from a mum on a mission, our Age Grade Rugby team came to the rescue.
Oscar Hurst's mum, Esther, contacted us to ask if there was any way she could get hold of one of the county balls her son had played with at the county Tag festival. When she had asked Oscar what he wanted for his birthday, all he asked for was an LRU ball.
So, when Esther asked us, we thought we would make this little boy feel special.
Our RFU representative Peter Howard, visited Oscar to give him his present today, and it was a delight to see this little boy so happy with his ball. Oscar was all ready for us when we arrived, complete in his Stoneygate playing kit. We also gave Oscar some extra little gifts to go with his ball.
Thank you. It feels really nice with the bobbles!
Happy 8th Birthday Oscar!