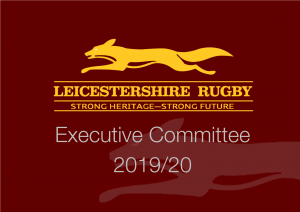 Leicestershire Rugby Union are delighted to announce the appointment of Dean Toon as Chairman of Leicestershire Rugby Union for 2019/20.
Over the course of the next few days we will be introducing you to your Executive Committee for the forthcoming season with a few words about them. We are all looking forward to getting out into clubs this season  so we can get to know you too.
Dean Toon, Chairman
As an Englishman being educated in North Wales there was always the challenge of the oval ball vs the round one so rugby was a big part of my schooling initially and my love for the game stems from my old school master. Whilst suffering a back injury in my early 20's, it scuppered my very modest scrum half playing career!
I have been involved in local Rugby since 2005 at Cosby RFC when my oldest son became interested in the game. Like many before me I ended up becoming a volunteer, coach and along with a couple of others ran the youth section of the club. We moved on to South Leicester where I was appointed Mini/Junior Chair in 2011, a position I held for four seasons before being approached to take on the Youth (now AGR) chair for the CB (Constituent Body). I am honoured to have been nominated as Chair of the Executive Committee this season and pay tribute to those who have held the chair previously.
The financial pressures are an increasing challenge for the CB, challenging us all to become more efficient with optimum delivery. We have a great team on the exec and operating committees who are focused on the core aims of the CB. In my tenure working alongside our stakeholders and member clubs my role is to spend our core funding in the areas that assist clubs to put more boots on the grass. With one child who has successfully transitioned and one more in his last AGR year I see the difficulties up close moving from AGR to Senior and this will be a particular focus. In my paid work I am a Director of a Group of Companies with my main role being an Insurance Broker. I have three children, a rather excitable dog and a rekindled passion for motorbikes.
Barbara Crellin, President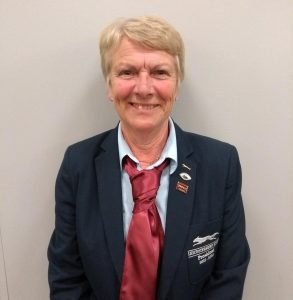 My background is education, being a Primary School teacher and Head teacher for almost 40 years.
I went to my first rugby league match aged 2 on my father's shoulders and have followed rugby ever since.
We joined Oakham RFC in 1982 when we moved to Oakham and changed codes. I have fulfilled many roles at Oakham. Suffice to say that if a job needs doing I do it; from kitchen to kit shop to discipline to H&S to First Aid to Safeguarding and Welfare to Volunteers and Committee. My son played from Minis to Seniors and now manages the Clubhouse, my daughter works the bar, son in law and two grandsons play first team and three smaller grandsons play in the current minis. It is a bit of a family affair which surely is a culture we need to foster.
I started attending LRU clubs meetings as I felt Oakham was missing out and they were! I have been actively involved with the LRU for more than four years and am very proud to serve as President 2019-20
Kevin Whitcombe, Hon Secretary
Kevin has been a local player at all levels and is a former Police Officer. Having joined the LRU as a volunteer in 2012 Kevin has chaired the development committee and is currently the LRU Hon Secretary and a member of the executive management committee.