The Hinckley Hares are a walking rugby team with members from 40 to 80, comprising of men and women. Some are ex-players, and others have never played before. The group are continuing to grow in numbers as more people are enjoying keeping fit, making new friends out in the fresh air and socialising in the club house afterwards.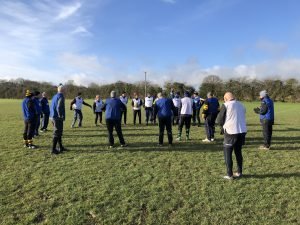 The team have even welcomed back ex-Hinckley head coach Bob Sulley who suffers from Dementia but is really enjoying playing the game he loved at a new pace whilst his wife and carer has an hour of respite and enjoys a coffee while Bob plays. Read the story here
They walk on a Monday 10.30-11.30 then stay for a coffee afterwards and Tuesday evenings 6pm – 7pm and stay for a drink in the club house afterwards. 
If you are interested in knowing more, then the group have a Facebook page with more details