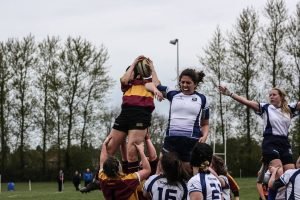 Update from Tom Kilburn,
I am excited about this year's women's programme as we have a wealth of home grown talent making themselves available for Leicestershire. I have watched a lot of local matches over the last few months and have a good insight into the potential of the player base, even looking across the borders for players that are eligible to play for the CB.
Unfortunately, our two local England grand slam winners Emily Scarratt and Vicky Fleetwood are no longer able to commit with the World Cup just around the corner. However, we have selected a very strong training squad 35 players with great potential and an eye on the long-term future as we have 4 current under 18's in the squad and 2 from last season.
This year has seen a huge growth in female rugby with all our teams having strong seasons:
Coalville RFC returned to league rugby this season and have the potential to finish second in their league.
Lutterworth RFC are sitting at the top of their League and made the National Cup Quarter-Finals.
Loughborough RFC have finished 5th in the second tier of women's rugby. National Intermediate Plate Winners beating West Bridgeford in the final 29-5
Next season Loughborough have the honour of playing in the the newly formed women's Super League. This has a benefit to County Rugby in a very positive way driving up standards and the Leicestershire Squad continue to have a healthy competitive edge. We have retained 9 of the previous seasons squad marking a culture shift in women's representative rugby.
The women's county championship has given the women a competitive opportunity to step up and represent their County with pride and honour. We have retained 9 of the previous seasons squad marking a culture shift in the Representative Game. Additionally, the County Squad will have the opportunity to win Leicestershire County Caps by playing in 5 matches for at least 30 minutes in line with their male counterparts.
There has never been a better time to join the burgeoning women and girls game. If you want to find out more about women and girls rugby look on our find a club page.
Why not come and see some great rugby at our forthcoming fixtures:
23rd April vs Cheshire @ Coalville RFC 2:30ko
30th April vs Warwickshire @ Broadstreet RFC 2:30ko
7th May vs Eastern Counties @ Lutterworth RFC 2:30ko
14 May vs Oxfordshire @ Banbury RFC (tbc)
Squad
Loughborough RFC
Lutterworth RFC
Leicester University
Ofure Ugiagbe Vice Captain
Carla Jones
Isabelle Butcher
Saskia Penrose
Sophie Etheridge
Emily Hughes
Ellie Turner
Abigail Kirk
Jade Shakespeare
Martha Riggs
Natalie McDonald
Danielle Allen Solly Captain
Dannie McKenzie
Lichfield RFC
Laura Turner
Emma Bliss
Daphne Fromes

*

Carolina Pasquali
 
Alexandra Macdonald
Coalville RFC
Old Northamptonians RFC
Maria Crowfoot Vice Captain
Jasmine Heard
Nikki Wieczerzynski

*

Ellie Bath
Alysia Hunt
Cailin-Jo Tyler

*

Rianne Hopkins
Jenny Renton Vice Captain
Emma Dootson
Alice Birr
Bryony Promfret
 
Amy Relph

**

Old Newtonians RFC
Loughborough University
Abi Gordon

**

Brieneke Matthes
Scarlett Cooper Wall
Jasmine Eammes

**

 

*

Live within CB
Izzy Drexler

**

** 

Current Under 18's