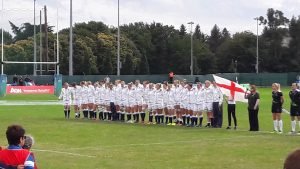 By Roz Wright
A few months ago the idea of sitting down to breakfast by 9am in Dublin on a Saturday morning seemed appealing. At 5am at East Midlands Airport, I'm struggling to remember why. Still, with a large coffee and a bit of shut-eye on the plane, sure enough by 8.30am we're tucking into a cooked breakfast in a café in Temple Bar (Dave – if you're reading this, I apologise.  A lot of this weekend isn't going to be ideal pre-season preparation, sorry Coach).
Fast forward 24 hours in Dublin (Temple Bar, Irish Rock and Roll museum and a steak dinner) and Sunday at 10.30am finds my husband Chris and I making our way in a taxi out to University College for Match Day 2 of the Women's Rugby World Cup 2017.  The set-up was great – lots of signage and stewards, good catering and bar facilities and a fan-zone between the two venues (Billings Park and UCD Bowl) with a big screen showing the games in progress.
We watched New Zealand and Hong Kong warming up and the first thing that struck me was that Portia Woodman is tiny in real life – she looks so big and powerful on tv.  The game itself was a real quality display from the Black Ferns, constant noise and communication and a cricket score quickly began to be notched up.  My husband argues that it was easy for NZ to look impressive against Hong Kong – one of only 2 teams in the tournament ranked outside the top 12 in the world (at 23), the other being Japan (at 14).  But I disagree – it would have been 'easy' for NZ to field a second string team, sit back and 'just' win by 40 or 50 points, but Canada had already laid down a marker of 98 points against HK and NZ were determined to respond, still maintaining their pace and determination as they sailed past on the way to 121.  This is to take nothing away from HK who were scrappy and energetic the whole match and didn't lose heart.  They made some good individual tackles but just couldn't string together plays from that to break through the NZ line.  By the end of the game, supporters from all sides were willing them to get some points on the board, just as reward for their sheer bravery and you could tell just how much it meant to everyone involved.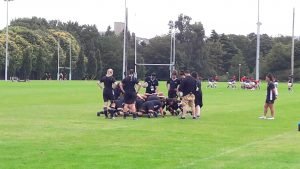 And so to England.  As the teams came out, it was obvious this was going to be more of a test than the Spain game on day one and there were nerves in the air .  We were momentarily distracted as a rested Kay Wilson, sat down with her parents behind us – all lovely and friendly and happy to chat about the game and pose for a selfie with me .  The Scarratt disallowed try was harsh – the TMO seemed to agonise for ever over the decision, the heartbeat echoing around Billings Park.  It looked fine in real time, but then as the slow-mo played over and over again, it began to look inevitable it was going to be disallowed.  Italy were good at the breakdown and gave the Red Roses a much more physical game than Spain had but by 55 to 60 minutes, England's fitness won out and Italy seemed to be running out of options.  Amy Cokayne and Marlie Packer were our stand out players of the match and created some excellent plays together, culminating in a great try for Tamara Taylor.  Lydia Thompson proved again that her pace on the wing is indispensable but Packer's 'Player of the Match' accolade was well deserved, a brilliant playmaker.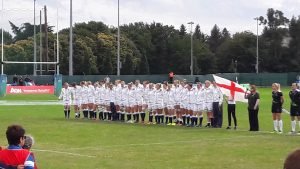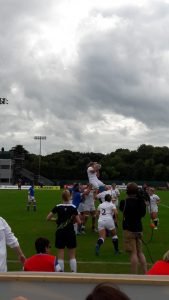 The final game of the day at Billings Park was Canada v Wales, a very well matched closely fought contest, with Wales shutting down Canada at virtually every breakdown.  Canada's Alex Tessier was impressive at 13 and second row Latoya Blackwood, played with echoes of Mario Itoje.  We were surprised at the amount of travelling Canadian support and a quick chat with the Canadian fans in front of us confirmed the women's game is gaining in popularity following their excellent performance in the 7's at Rio.  And as they said "They're better than the men's team!"
The news from UCD Bowl at half time that Ireland were losing 14-0 sent ripples through the crowd and by the end of the Canada v Wales match, the girls in green had only managed to pull it back to 14 all with around 7 minutes to go.  Needless to say, we hotfooted it into the bar to catch the end of the match and watched Ireland edge to a 24-14 win.  Having seen a very aggressive French side put 48 points on Australia, I think Ireland will struggle to progress out of the Pool stage – the pressure of being the hosts perhaps?  Home side advantage and support can only take you so far.
As with all rugby matches and tournaments I have been to the usual friendly atmosphere abounded, with fans and players of all nations mixing happily during and after matches.  We learnt all about hurling in a very interesting chat with a girl from Kilkenny and a chance conversation in the bar led to a very pleasant half hour spent having drinks and a chat with highly ranked referee Claire Hodnett and her family, who will be refereeing the final of this tournament, should England not be in it.
Our final 24 hours in Dublin were spent at Guinness Storehouse, shopping and spotting members of the national teams sightseeing in their downtime!  Team USA coming out of an Irish Gifts shop, Safi N'Daye (French No.8) with her tricolour dreads on the street with a film crew and Harriet Millar-Mills walking past the restaurant as we ate lunch.
Before coming to Dublin, I had expected (rather naively) the whole of the city to be a-buzz with the fact that they were hosting the pool stages of the competition, but I was wrong.  I suppose that stems from my experience of going to major men's games and competitions, including the World Cup in 2015.  That said, the organisation at UCD was excellent and the IRFU have obviously put a lot of effort into making the tournament a success.  At only 15 euro each per ticket, the day was an absolute bargain, and we would happily have paid twice the price for the excellent games we witnessed and would definitely attend again.  (And we were spotted on the tv coverage at home and made it onto the England highlights!)  For an inexperienced amateur like me, I have come away feeling inspired, excited and more motivated for the upcoming season than I ever have before.