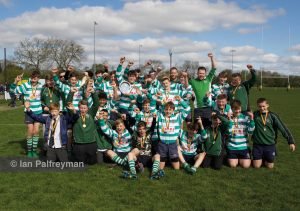 Wow, what a day! The sun took it's hat off and shone down on Market Bosworth RFC and the Vipers RFC today, Sunday 2nd April for county finals day.
Vipers RFC hosted the following finals:
Under 14's Plate – Market Bosworth v South Leicester Kick off 10.30am
Under 14's Cup – Hinckley V Loughborough Kick off 11.45am
Under 17's Cup – Leicester Forest V Loughborough Kick off 1pm
With the following results, and congratulations to all:
Under 14's Plate winners – South Leicester
  
Under 14's Cup winners – Hinckley
  
Under 17's Cup winners – Leicester Forest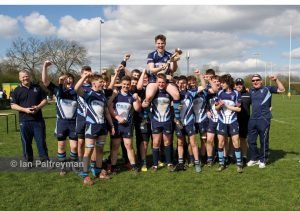 Thank you to Ian Palfreyman for the photographs.
Market Bosworth RFC hosted a full day of matches for the U9 – U11's county festival. 
Clubs were represented from across the county with some excellent displays of rugby. All the children, coaches and supporters showed a great display and reinforcement of the rugby Core Values with all the children receiving medals for taking part in the day's games, presented by Brian Hesford, Leicestershire Rugby Union President.
A big thank you goes out to all of you who attended and took part, but in particular everyone at Market Bosworth RFC for hosting the finals. It was a long day and the BBQ was kept alight so everyone was fed and watered! Thank you.
Here are a few shots from the day.