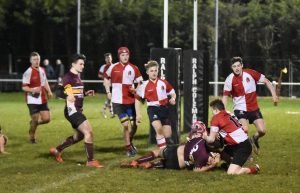 The first game for this years Leicestershire U17s was against Warwickshire on a perfect Spring evening at Hinckley RFC on the 15th March 2017. Warwickshire set the standard from the kick off with some aggressive tackles, however Leicestershire stood their ground and went through the phases. After several penalties and with a dominant scrum that continued throughout the game, winger Tom Westbury went over the white wash to give Leicestershire a 5-0 lead heading into the end of the first quarter. In the second quarter, Leicestershire once again dominated the scrum and territory allowing Joe Callery to go over the line in the 28th minute, 10-0.
The second half of the game proved Leicestershire's true grit in defense and attacking zest with tries from Jake Walton, Jake Berrow, Josh Marston and Dan White, giving Leicestershire a well deserved victory over Warwickshire and a final score of 34-0.
Throughout each quarter a high level of rugby skill was displayed by both teams. Leicestershire produced a positive display of rugby which was described by Leicestershire's Head coach Marc Birr as 'outstanding'. Well done to both teams for a great display of rugby.
Leicestershire U17 have their remaining fixtures for the season planned as follows:
LRU U17 vs NLD U17 at Newark RFC on Wednesday 22nd March 2017
LRU U17 vs Staffordshire U17 at Hinckley RFC on Wednesday 29th March 2017
LRU U17 vs East Midlands U17 at Stewart & Lloyds RFC on Wednesday 5th April 2017
All kick offs are scheduled for 7.30 pm. Feel free to come and support the future of Leicestershire and England rugby.
Report from Jaime Monteiro – U17's Team Manager