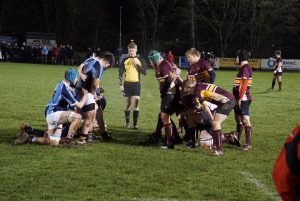 Leicestershire U17's have made it '2 from 2' with a solid 22 – 5 win over a determined NLD side on a wet and cold evening last Wednesday night.
The first period saw the team maintain the majority of possession with a share of territory and despite the conditions both teams were eager to play with ball in hand. There was good interplay between backs and forwards with an intent to offload where possible despite a slippery ball. Half way through this first period Leicestershire began to create some dominance which was capped off with Jack Evans seemingly just being denied in the right hand corner on the 15th minute. Following consultation with the touch judge the referee awarded a penalty try for a high tackle which was deemed to have illegally stopped Jack scoring. The conversion made it 7 – 0, a lead the team were not to relinquish.
The second period saw Leicestershire continue their dominance but they were unable to cross the white wash, the scrum and back-line seemingly on top in both attack and defence. Rain made conditions more difficult and a combination of a few knock-ons and some indiscipline saw NLD awarded a series of penalties which marched Leicestershire back towards their own line. Another indiscretion was followed with a quick tap which saw NLD squeeze over in the corner for an unconverted try. Score line 7 – 5, these were the first and only points conceded in the game.
The NLD try galvanised the Leicestershire team and they were both resolute in defence and adventurous in attack. Quick ball, pressure, good movement and some offloads lead to 2 more team tries in the 3rd period; one score from James Marston finished off in the corner following a quick tap and then a miss out pass from Sam 'Titch' Titchener followed by a try by Alec Barraddel who sniped from 5 metres out following an 8 pick up. The lead was up to 17 – 5. NLD had one further opportunity in the left hand corner but were tackled out of touch by some resolute defence which saved the try. The Leicestershire lads then exited their own 22 from the subsequent line-out and never looked back.
The final period witnesses some quick play and good hands with several clean breaks splintering the NLD defence giving enough room for Dan White to canter through and score the teams final try, the game finishing 22- 5 with Leicestershire in the ascendancy.
It was a great squad effort with a number of the lads involved in their first U17's County match as well as a number of the 'development' U16's enjoying a run out too. The team continues to develop and the rewards for their hard work and effort in training is showing through.
Leicestershire U17 have their remaining fixtures for the season planned as follows:
LRU U17 vs Staffordshire U17 at Hinckley RFC on Wednesday 29th March 2017
LRU U17 vs East Midlands U17 at Stewart & Lloyds RFC on Wednesday 5th April 2017
All kick offs are scheduled for 7.30 pm.
Report from Alistair 'Steg' Williams – LRU U17/18's Forwards Coach