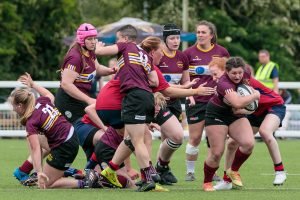 On Sunday 22nd May Leicestershire ladies took on North Midlands. This would be the deciding match for Leicestershire to make the final at Twickenham in their first year in Division one of the Gill Burns County Championship.
They did not disappoint and following a tough 80 minutes, they were triumphant with 5 tries and a full time score of 27-17. North Midlands ladies were strong in their defense and did not make it easy at all. 
Leicestershire had good support in the crowd following a successful morning of games with the U15's girls playing from Leicestershire, Warwickshire, North Midlands and Staffordshire. Supporters even travelled from Sussex to watch and Leicestershire provided two female referees in addition demonstrating that the female game in Leicestershire is strong and growing.
Here are the match day photos and Leicestershire would like to wish the best to the North Midlands player who sustained a knee injury in the second half. To download the pictures, click on the image to open in a new window and then click again to enlarge and save and share!
Finals day at Twickenham will be on Saturday June 4th, kick off 1pm. We will share more information around tickets etc as soon as we have it.
Photo credit @julian_b_photos