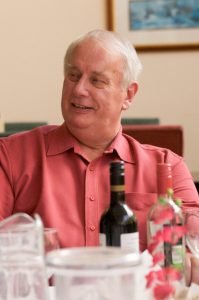 Obituary by Richard Green, former President and Hon Secretary for Leicestershire Rugby Union
It is with great sadness that I have to report the death of Ken Palfreyman. Ken passed away early on the morning of Monday, 27th December 2021.
Ken Palfreyman was a lifelong supporter of local rugby and a great servant of the Leicestershire Rugby Union, serving on the Executive/Management Committees and many sub-Committees.
His early years involvement was aimed mainly at the Colts section of the Union where, in his capacity of chair of that sub-committee he became a person to look up to for the many young players setting out on their adult rugby career. He served as Assistant Hon. Treasurer and member of the Finance Sub-Committee for many years and also served on the Playing, Governance and several other Sub-Committees.
In 1994 Ken became the Chairman of the Union, guiding it successfully into the professional era and serving until 2002 with just a one-year break. It was during this time, in 1997, that, along with the late Jerry Day, he organised the first, and very successful, Rugby Festival to be held in Leicestershire, This event took place at Victoria Park with matches being played at all age grades with many "side shows" alongside. Ken also led the steering committee for the 125 Year anniversary celebrations of the LRU in 2012, although his work with the Union had been replaced by his assistance with the management of the Loughborough Students RFC, where, amongst other matters he was responsible for the referee's appointments and administration. This was a role he had taken on when relinquishing the chairmanship of the Union
Ken was made a Life Member/Privileged Person of the LRU in 2005 and became a much respected President for the season 2007/08. It was at that time that he started to organise the Past Presidents/Vice Presidents/Privileged Persons annual lunches, hugely successful reunions of former members of the Union.
It goes without saying that Ken will be missed by all those members of the Leicestershire Rugby fraternity who knew him and those at South Leicester RFC and Loughborough Students RFC with whom he was associated.
Ken and his wife Elizabeth agreed they would have a Pure Cremation and there will be no formal funeral or memorial service.