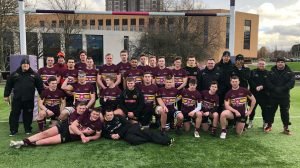 It was a dull, wet and windy start at kick off at 1pm today, but the weather did not hold back our U18's.
The first half was perhaps quite tough with Staffordshire putting in some good defence, but Leicestershire came through to score their first try and conversion, and with a strong side wind, that was not easy, but it popped through the posts to take Leicestershire into the second half 7-0 up.
The second half was all in  Leicestershire's half. With some quick passing and great defence, Leicestershire maintained possession and were easily the dominant side. Much as Staffordshire picked up the odd mishandled ball to turn it over, they still could not break through to get anywhere near their try line.
A great match with great performances from both sides, but today, Leicestershire came out on top wining 34 – 0.