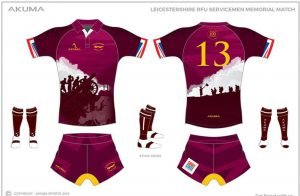 Leicestershire Rugby Union and the Royal British Legion are holding a fund raising rugby match in aid of The Poppy Appeal. The Game will take place on Sunday the 4th November at 14.15 against the Royal Signals at Coalville RFC.
The game will be attended by a number of senior dignitaries from Leicestershire including the Lord Lieutenant etc.
Players will receive a playing kit to keep and there will food and drink put on after the game for you. If you are interested contact Marc Birr on [email protected] 
Should we be in a position where we have more players than positions, a selection process will take place. This will be advised if necessary, but we really want to get as many people involved as we can and play rugby to mark this unique occasion. We are looking to recruit players from Leicestershire only.
Please help us to get as many people as possible to attend the event by sharing this on social media